Pa.'s top election official, ACLU call out Lehigh County DA's monitoring of drop boxes
Pa.'s top election official, ACLU call out Lehigh County DA's monitoring of drop boxes
By Tyler Pratt
May 5, 2022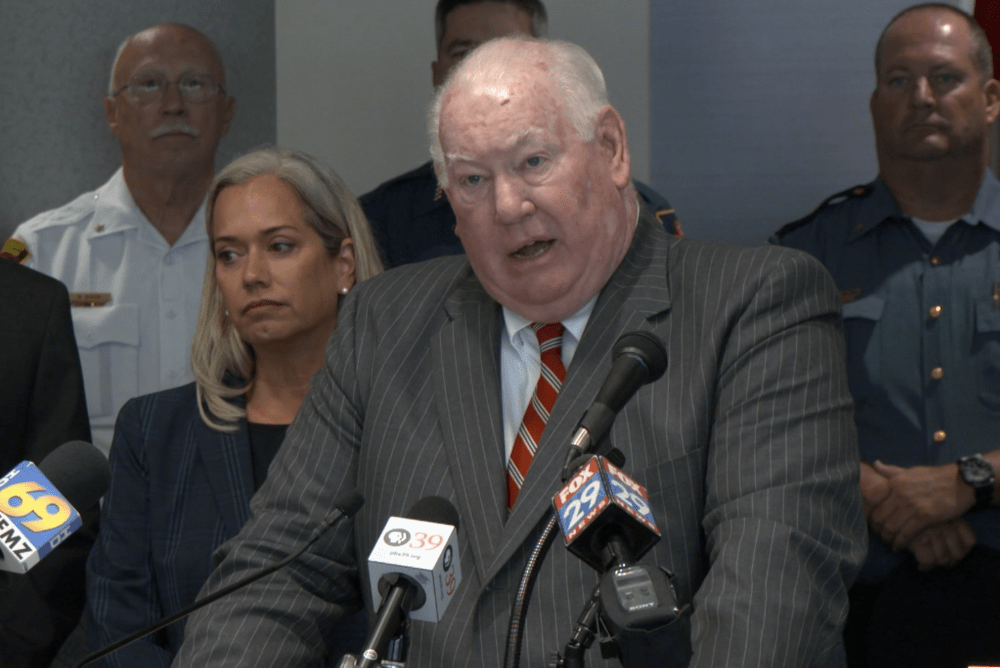 ALLENTOWN, Pa. – The state's election head says she is "very concerned" about a Lehigh Valley law enforcement official's plan to have county detectives monitor drop boxes in the May 17 primary election. 
Lehigh County District Attorney Jim Martin last month said hundreds of residents dropped off mail-in ballots that were not their own last fall at county drop-box locations — a violation of the state election code.
Last week, Martin set off a firestorm by announcing plans to uphold the election code with county detectives stationed from time to time at mail-in ballot drop box locations, as well as monitoring video surveillance.
Pennsylvania's Acting Secretary of State Leigh Chapman said that worries her.
"There is a long history in this country of voter intimidation and the mere presence of police at a ballot drop box can deter voters from casting their ballots," Chapman said.
It's unclear, however, what happens next.
"We're having conversations internally at the Department of State about the best way to approach Lehigh County," Chapman said during a media availability session Thursday. "But it is concerning."
Chapman reminded voters not to drop off multiple ballots unless they have an exemption. She has found no cases of widespread voter fraud, she said.
Also Thursday, the American Civil Liberties Union of Pennsylvania and more than a dozen voting rights advocacy groups said that they sent a letter requesting Martin drop the plan. They said it bordered on voter intimidation.
Martin declined to comment for this story.
"We respectfully request that you reconsider your ill-conceived plan to monitor drop boxes because it
threatens Lehigh County citizens' free exercise of the fundamental right to vote," the letter says.
It adds that Martin's plan "comes perilously close to intimidation and harassment of voters under both the Pennsylvania Election Code and the federal Civil Rights Act of 1957 and Voting Rights Act of 1965.
"To be clear, the existence of surveillance video as a security measure, by itself, should be
adequate for your stated purpose, while the physical presence of law enforcement creates an
unacceptable risk of inappropriate confrontation as voters are attempting to complete their vote by-mail transaction," the letter states.
The letter claims Martin's legal interpretation is flawed.
"The restriction on dropping off another person's ballot is not, as you claim, absolute," it says. "A person is allowed to drop off more than one ballot if that voter is a designated agent for persons entitled by law to have assistance in voting. Many voters with disabilities are physically unable either to deposit their ballot in a mail box, or return it in person to the county offices."
Martin's findings followed an investigation spurred by a complaint early this year from the Lehigh County Republican Committee chairman. Martin said at least 288 people deposited more than one ballot at the five county drop boxes leading up to the Nov. 2, 2021, general election.
He issued a news release April 26 saying he was putting voters on notice that it's illegal to deposit anyone's mail-in ballot but your own in a drop box. He said voters should be aware that it is a violation even if the voter only deposits his or her spouse's, or another family member's, ballot in addition to theirs.
In a letter to the Lehigh County Election Board, Martin suggested warnings be placed on drop boxes in a prominent location. He said the warnings should make clear that voters should return only their ballot, and the warnings should also spell out possible penalties.
People who drop off more than one ballot face prosecution and could be exposed to fines and penalties up to $2,500, or be imprisoned up to two years, or both, according to the election code.
Sign up for our WLVR weekly newsletter to stay up to date with the latest news from the Lehigh Valley and across Pennsylvania.
---