Drop off mail-in ballots to avoid mail delays, says state department
Drop off mail-in ballots to avoid mail delays, says state department
By Megan Frank
October 6, 2021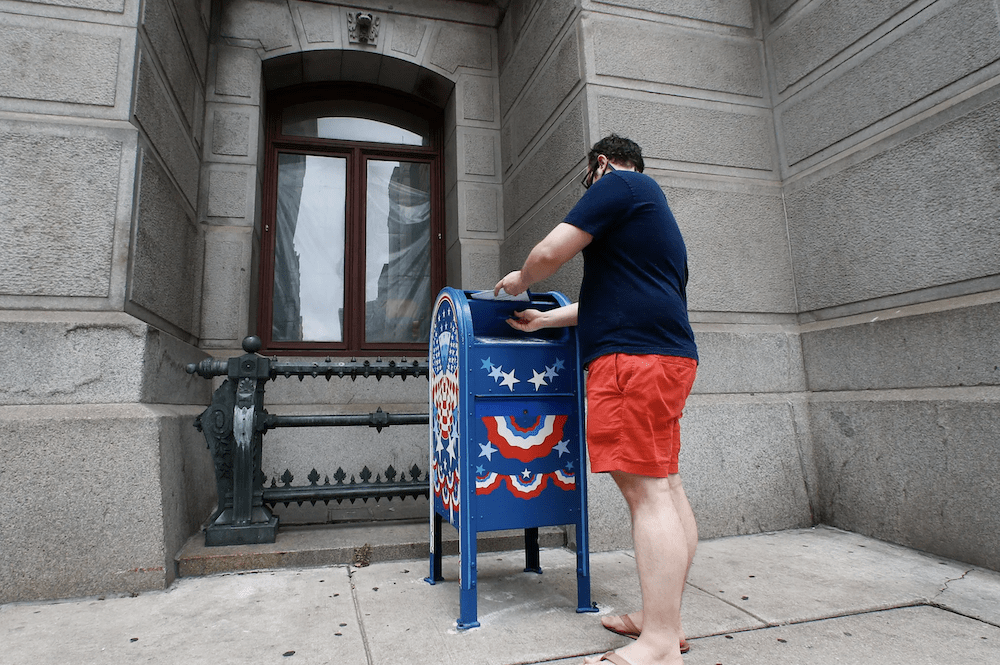 BETHLEHEM, Pa. – The Pennsylvania Department of State says voters who requested a mail-in ballot should consider turning it in sooner rather than later. 
That's because of widespread postal service delays.
Acting Secretary of State Veronica Degraffenreid says all ballots must be received by 8 p.m. on Election Day, Nov. 2, regardless of mail delays. That's why she says voters should consider dropping off mail-in ballots at their county elections office or drop box locations.
"Because of potential mail delays, certainly, if voters want to hand-deliver those ballots, or submit them to the drop-off locations, we would encourage that," Degraffenreid said.
She says over 875,000 Pennsylvania voters have already requested mail-in ballots. The deadline to apply for one is Oct. 26, which is a tight turnaround for mail delivery.
"If a voter has their ballot and it's, you know, getting really close, we would highly encourage them, certainly within that last week, to take the ballot in person," Degraffenreid said.
If a voter opts not to mail their mail-in ballot, Degraffenreid said it can be surrendered or given back on Election Day at a voter's polling location. Once the mail-in ballot is surrendered, the voter will be allowed to vote in person instead.
Each ballot has a unique barcode on it that corresponds to each voter. If a voter is not sure about the status of their mail-in ballot, they can check its status here: vote.pa.gov.
The state department provides a list of ballot drop off locations on its website. Here's a list of Lehigh Valley ballot dropoff locations:
LEHIGH COUNTY
Lehigh County Government Center
17 S. 7th St.
Allentown
610-782-3194
24 Hour drop box access for deposit located outside the main entrance
Deadline for drop off at this location is 8 p.m. on Election Day.
North Whitehall Township Building
3256 Levans Road
Coplay
610-799-3411
7:30 a.m. to 4 p.m. Monday – Friday
Lehigh County Authority (LCA) Lobby
1053 Spruce Road
Allentown
610-398-2503
8:15 a.m. to 4:45 p.m. Monday – Friday
Fountain Hill Borough Building
941 Long St.
Fountain Hill
610-867-0301
8:30 a.m. to 4:30 p.m. Monday – Friday
28 S. 4th St.
Emmaus
610-965-9292
8 a.m. to 4 p.m. Monday – Friday
NORTHAMPTON COUNTY
Rotunda of the Government Center
669 Washington St.
Easton
8:30 a.m. to 8 p.m. Monday – Friday
Voters can park for free in the loading and unloading zone in front of the courthouse or use the new parking lot at Wolf Avenue and Washington Street
2801 Emrick Blvd.
Bethlehem Township
8:30 a.m. to 7 p.m. Monday – Friday
100 Gracedale Ave.
Upper Nazareth Township
8:30 a.m. to 8 p.m. Monday – Friday
10 E. Church St.
Bethlehem
8 a.m. to 4 p.m. Monday – Friday
Sign up for our WLVR weekly newsletter to stay up to date with the latest news from the Lehigh Valley and across Pennsylvania.
---