'A big deal': Gov. Wolf hails investment, new jobs, at new Allentown Innovation Hub
Written by John Moser on September 1, 2022
'A big deal': Gov. Wolf hails investment, new jobs, at new Allentown Innovation Hub
By Ryan Kneller
September 1, 2022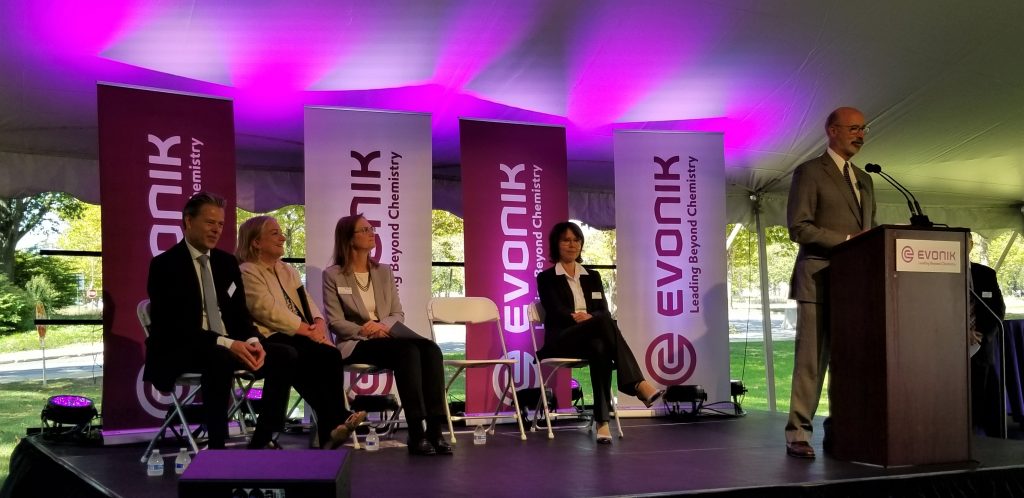 UPPER MACUNGIE TWP. – Gov. Tom Wolf, U.S. Rep. Susan Wild and other officials gathered Thursday for a ribbon-cutting ceremony to help Evonik, an international leader in specialty chemicals manufacturing, celebrate its new Allentown Innovation Hub.
The facility, at 7001 Hamilton Blvd. in Trexlertown, consists of several state-of-the-art testing and processing labs as well as a pilot plant. It also features a newly designed collaboration space to support a hybrid and creative work environment.
Evonik selected its Lehigh County location for expansion rather than moving the operation out-of-state, creating 50 high-paying jobs for scientists, engineers and lab technicians in the Lehigh Valley region.
The company received a $2.5 million Redevelopment Assistance Capital Program grant, coordinated by the Governor's Action Team.
"The opening of this facility is going to make new jobs, but it's going to make new jobs in the advanced manufacturing sector of the economy, which is an especially big deal," Wolf said.
The Innovation Hub is part of a broader globalization strategy for research, development and innovation at the Germany-based company.
Evonik Chief Financial Officer Ute Wolf said that as a global company, it was "really important" to have a global footprint and maintain a strong presence in several regions of the world, especially the important economic hub of the eastern United States.
The North America region contributed roughly a quarter – 23% – to Evonik's annual sales in 2021, making it the second-largest revenue source after Europe.
"We have more than 20 percent of our sales worldwide here in North America, mostly in the U.S., and that I think gives you a little bit of an idea of how important North America and the U.S. is for us as a company," Wolf said.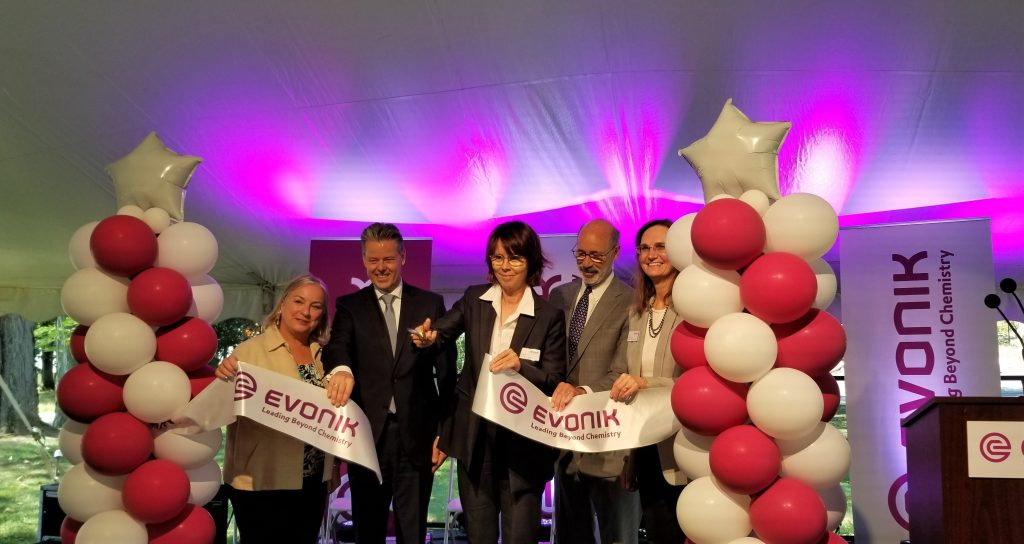 Evonik investments in North America, Lehigh Valley
By 2030, Evonik plans to invest more than $3 billion in "Next Generation Solutions" – products with superior sustainability benefits – and invest an $700 million more in "Next Generation Technologies" to optimize production processes and infrastructure and avoid CO2 emissions.
The company has invested several billion dollars in North America since 2017, when it acquired the specialty additives business of Allentown-based industrial gas producer Air Products.
"Critical research in creating sustainable solutions" will be conducted at the new innovation hub, with a key aspect of the facility being a modern lab for high performance polymers," said Bonnie Tully, Evonik's North America region president.
High performance polymers are the type of temperature resistant and unbreakable plastics used in automotive fuel lines, batteries for electric vehicles and high-end baseball and football cleats.
"Since our acquisition of the Air Products' specialty additives business in 2017, the Allentown site has grown to more than 300 employees," Tully said. "It plays a crucial role in our research and development, which is uniquely important for our business and our green transformation."
Evonik has invested more than $50 million into its new hub, which includes more than 60 specialized laboratories for new product development and testing.
Its new high performance polymers lab, for example, allows the processing and testing of plastics for 3D printing, medical implants and performance foams in airplanes or cars. Another lab enables the formulation and testing of additives for industrial coatings.
"These investments that the commonwealth is making in Evonik is just one example of how Pennsylvania has supported businesses and the economy in Pennsylvania over the last 7.5 years," Wolf said.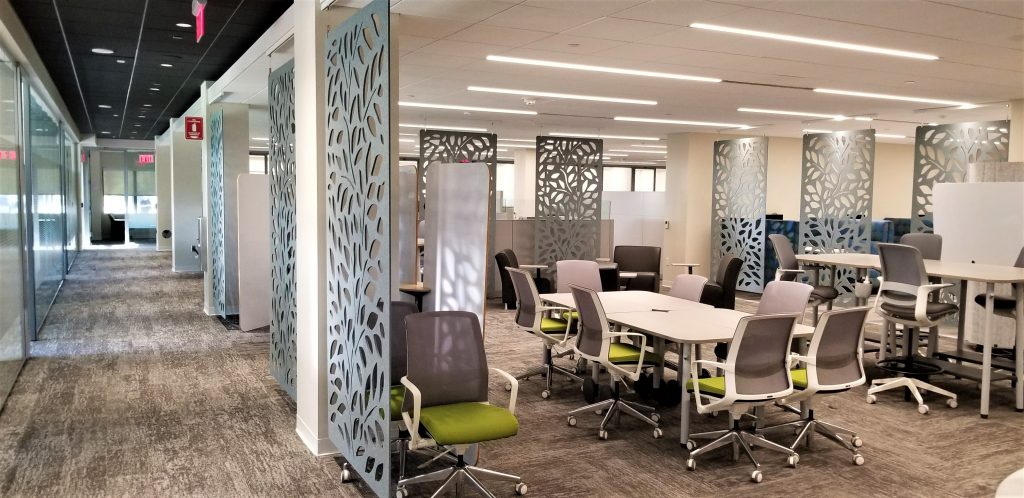 Wolf touts statewide jobs record
Wolf said his administration since 2015 has partnered with more than 420 companies, with 75% of them being in the manufacturing sector. As a result, 191,000 jobs were retained throughout the state, he said.
He also highlighted his administration's focus on investing in education, especially in science, technology, engineering and mathematics, or STEM.
"We've invested more than $3.7 billion in education; that's from pre-K through higher education," Wolf said.
Rep. Wild echoed Wolf's sentiments on education, noting that the Lehigh Valley's renowned institutions of higher learning, including its two community colleges, are attractive features for manufacturers and other innovative companies looking to put down roots.
"It really is just a perfect example of the kind of investment that Pennsylvania has made in bringing industries, manufacturing and important employers to our great commonwealth," Wild said.
In addition to labs, the Innovation Hub features flexible collaboration space to support and enhance a hybrid work environment.
The space offers open areas for employees to work onsite without needing individual offices and access to cutting-edge technology such as digital whiteboards and tools for video conferencing.
The continued expansion of the Allentown site underscores Evonik's commitment to the Lehigh Valley, which goes beyond creating job opportunities. Evonik recently donated $100,000 to support the Women in Science & Engineering initiative of Allentown's Da Vinci Science Center.
"This exciting state-of-the-art space is going to support Evonik's global growth," Wolf said. "This is a big deal."
---