Historic day as transgender flags fly for 1st time outside Allentown, Bethlehem city halls
Written by Jim Deegan on March 31, 2022
Historic day as transgender flags fly for 1st time outside Allentown, Bethlehem city halls
By Tyler Pratt
March 31, 2022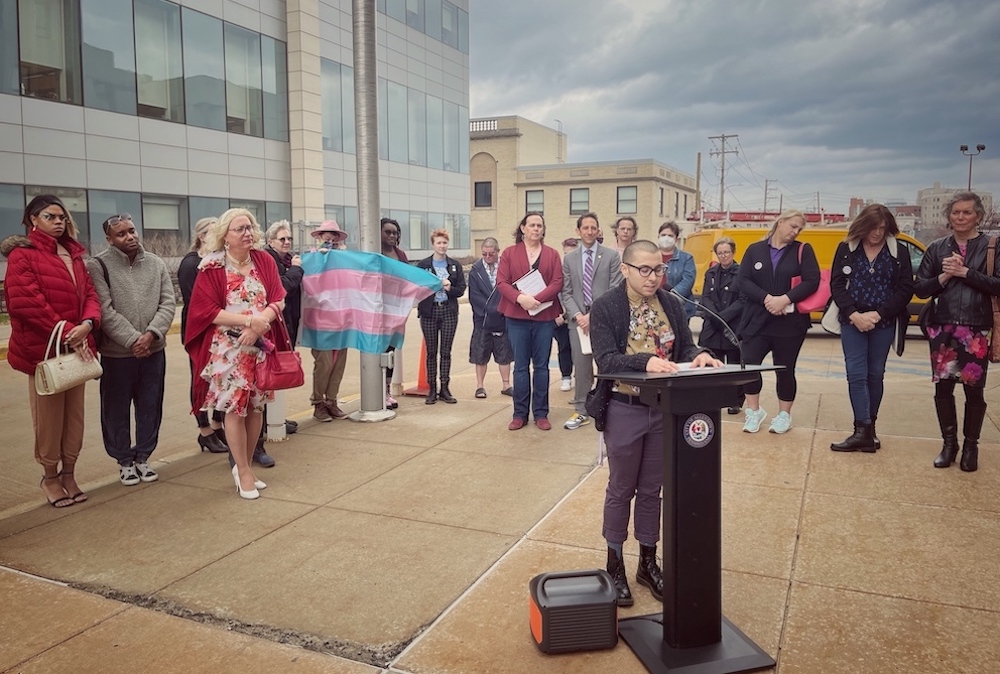 ALLENTOWN, Pa. – Light blue, pink and white colors waved high above the Lehigh Valley's two largest cities Thursday on Transgender Day of Visibility — the first time the transgender flag was raised at both Bethlehem and Allentown city halls. 
In Allentown, more than 100 people gathered downtown.
Corinne Goodwin of the Eastern PA Trans Equity Project, an advocacy group, said she had just one request from the community moving forward.
"I ask you to reach out your hand and take just one moment to be kind — be kind to your transgender neighbor," Goodwin said.
Goodwin and others cited the contributions of transgender people to many aspects of society, including science, politics, sports and media.
"Trans people know that, right now we have to work twice as hard and twice as long to get ahead," Goodwin said. "And frankly it's always been that way. It doesn't have to be."
Allentown City Councilmember Joshua Siegel, who has same-sex parents and a transgender sister, said the day was about affirmation.
"It's a day to recognize trans nurses, trans service workers and trans people of color who display quiet courage every day by simply living authentically, despite the intolerance, fear and violence directed towards them," Siegel said.
Speakers included local LGBTQ advocates, state representatives and Allentown Mayor Matt Tuerk. They reminded the crowd that the trans community faces some of the highest rates of poverty, suicide, homelessness and discrimination in the country.
Chloe Cole-Wilson of Valley Youth House stressed the importance of supporting trans youth.
"Just one supportive adult can make a difference," Cole-Wilson said. "Just one. Today and every day. Let's give them a village, a community, a city."
All who spoke said much more work needs to be done. But as huge gusts of wind kept the trans flag flying high in Allentown, many in the crowd said they hoped the act would help others feel more comfortable in their own skin.
Sign up for our WLVR weekly newsletter to stay up to date with the latest news from the Lehigh Valley and across Pennsylvania.
---