Lehigh Valley Kayak and Canoe Club brings racers, competition to Allentown
Written by Jim Deegan on September 12, 2022
Lehigh Valley Kayak and Canoe Club brings racers, competition to Allentown
By Jay Bradley
September 12, 2022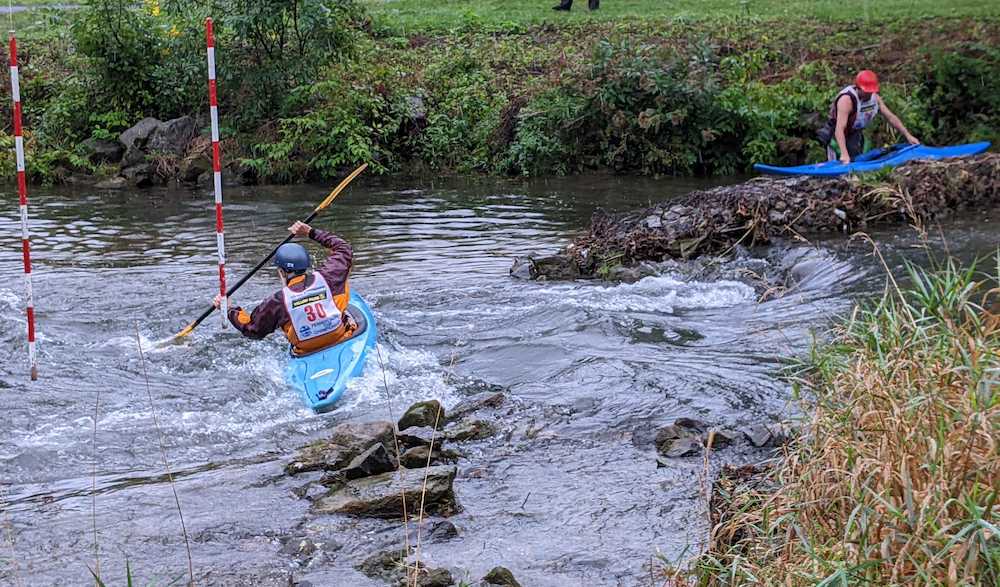 ALLENTOWN, Pa. — The Little Lehigh Creek was transformed to a place of competition over the weekend as nylon rope held up over a dozen gates that boaters fought the current to pass through.
With about 20 racers, paddlers brought their kayaks and canoes to the Lehigh Parkway in Allentown on Sunday for a rainy day that offered respite from a dry season. As competitors passed through the gabions restricting portions of the creek, they took their boats through the lofted gates between whitewater flare at the annual Larry March Slalom event.
Dan Rempp is webmaster for the Lehigh Valley Kayak and Canoe Club, which hosts the event. He says despite the dedicated community at clubs like his, and its popularity in other parts of the globe like Europe, whitewater and competitive paddling still hasn't caught on on this side of the pond.
"One of the things we like to do is to get new people out, so we make this open to anybody who wants to give it a try," Rempp said. "So we need to build this particular sport up again, in the United States. It's dying, we need to get it going again. So we're doing our part."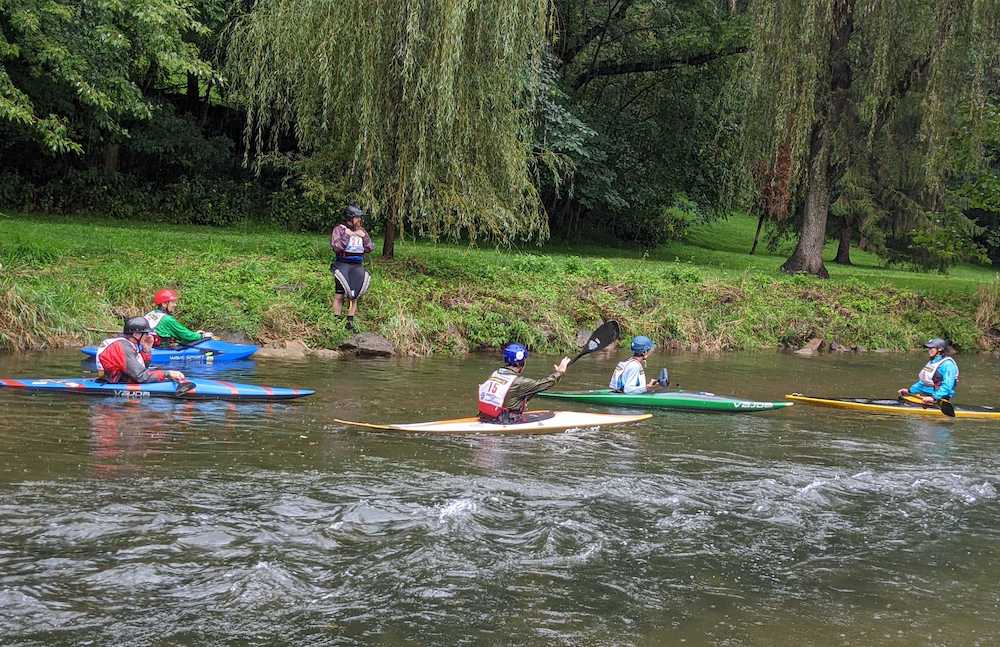 Saturday was host to a clinic for new and inexperienced paddlers to get training and tips on the course before the Sunday timed runs began. Nick Heshelman said this was his first time competing after doing a beginner workshop with the club last year, and attending the prior day's clinic.
"After the training that we did yesterday, and then actually putting into practice today, there's a few strokes that I'm practicing more on," Heshelman said Sunday.
The race brought experienced competitors too, and has occasionally been attended by paddlers who went on to become national level competitors and Olympians. Top finishers gained points in the larger Pennsylvania Cup Championship circuit of races hosted by different clubs throughout the state.
It was also Paxton Nithikasem's first time at a competition. Being just 15, he said he appreciated the diversity of skill exhibited by paddlers.
"It's really cool because you can learn from the people who've been doing this for 30, 40 years," Nithikasem said.
"You can learn about tips and tricks, [which] you can't really do when you're not in a competition. So when you're around all these other people who are really experienced, it's really cool, because you can improve a lot."
The Kayak and Canoe Club runs various whitewater and casual events over the year on the Lehigh River and throughout the region, including courses on open water paddling.
---