Pennsylvania has no clear plan to vaccinate inmates in county jails, and is not providing shots
Pennsylvania has no clear plan to vaccinate inmates in county jails, and is not providing shots
By Tyler Pratt
April 17, 2021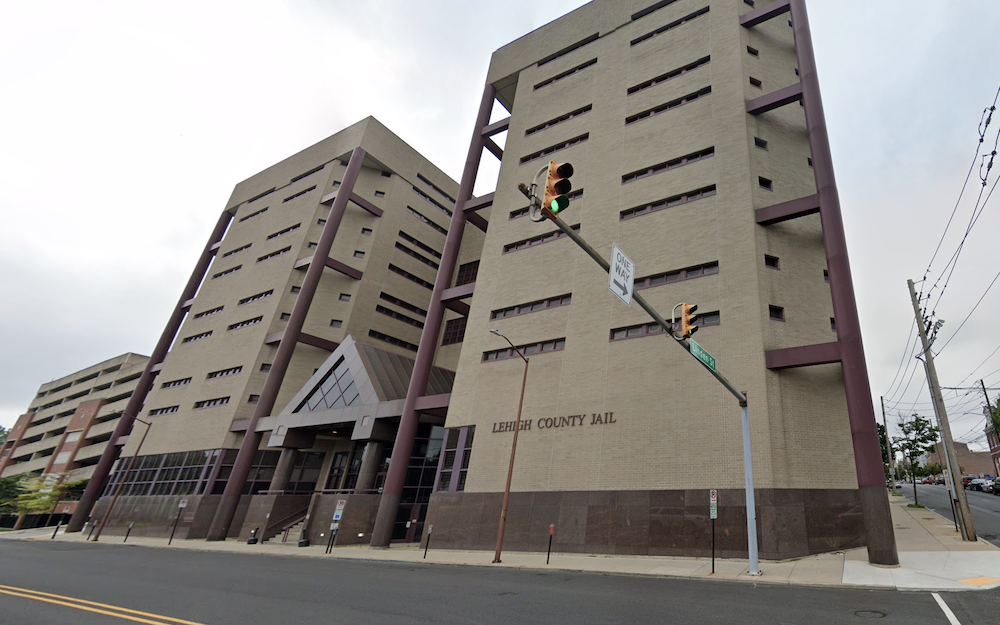 Under Pennsylvania's original vaccine rollout plan, incarcerated people were second in line for the COVID-19 shots, as a vulnerable population. More than half of those in state penitentiaries have now been fully dosed, according to the Department of Corrections. 
But now that vaccine is available to everyone 16 and up, there's still no clear plan to vaccinate inmates in county jails.
This winter a surge in cases at the Lehigh County Jail left one corrections officer and an inmate dead. Elected officials and lawmakers publicly appealed to the state's top health officials at the end of January to get vaccines into the jail.
Three months later, the county corrections director Janine Donate says the jail has still not received a vaccine supply for inmates.
Joseph Welsh, executive director of the Lehigh Valley Justice Institute, advocates for criminal justice reform. 
"You've got this setting where you've got a lot of people living in very close quarters in facilities that may not have the best ventilation, you basically have this COVID boiler," Welsh says. 
In neighboring Northampton County, Deputy Director of Administration Becky Bartlett says at the Northampton County Prison they don't have supply for inmates either. 
Both Lehigh and Northampton counties have made strides in keeping case counts low over the past few months. Northampton County Prison (NCP) currently has none, and the Lehigh County Jail (LCJ) has one. 
But Welsh says there's a reason to still be concerned: the mutating virus.
"We do have these variants out in the general population which corrections officers are exposed to, other people that come in and out of the jail, and the inmates themselves as they come in and out of the jail," Welsh says.
Keeping cases low without a vaccine comes with impacts to quality of life while incarcerated: quarantines on arrival, restricted movement for almost all hours of the day, and no in-person visitations.
"Try this as an experiment," Welsh says, "Spend the day in your bathroom and better yet spend the day in your bathroom with somebody you never met and just happen to be placed in a room with, in a cell with. Try that. And then imagine doing that for an entire year."
In emails to WLVR, the Pennsylvania Department of Health (DOH) says it's the responsibility of counties to work with providers to vaccinate inmates. But health networks have to get vaccines from the state. And the health provider for the majority of Pennsylvania county jails says it can't find any shots. 
"It does not appear as though the pleas for this patient population are being heard," Tom Weber chief executive officer of PrimeCare Medical (PCM) says. 
PCM runs healthcare for correctional facilities in 34 Pennsylvania counties, including Lehigh and Northampton.
Weber says he's been trying to connect with state health officials since December.
"We went months without any contact from the Department of Health," Weber says. "So it's been frustrating for us for the counties and particularly for the patients who are now frequently starting to ask, 'When can I get a vaccine?"
Weber says a few hospitals in the western Pennsylvania counties of Crawford, Washington and Mercer have been able to donate their supplies to vaccinate inmates. But he says others have had concerns, because hospitals have to account for all their shots.
"They're reluctant to say, '"Here's 100 doses, just do with them as you want,'" Weber says. "But we've offered our assistance, that if they just want to bring in a scrivener to take down the notes, we'll use some of our staff to run the clinics."
Barry Ciccocioppo, communications director for the Pennsylvania Department of Health, says the department has been speaking with counties and providers about getting vaccines in jails.  He said one of the reasons for the delay to county jails was that the state decreased the number of providers receiving vaccine supply in February, letting the federal government provide shots to pharmacies and Pennsylvania worked with larger health networks. 
"What we found is that we were distributing a small amount of vaccine to a lot of providers and we could get more vaccines out more quickly if we narrowed that group down," Ciccocioppo says.
Many county jails were relying on PCM for the shots. PCM was depending on the state for supply. And Ciccocioppo points elsewhere to account for the lack of doses.
"One of the factors during the entire rollout was the lack of availability of vaccines from the federal government, the limited supply that's been coming in," Ciccocioppo says. "And when Johnson & Johnson – a single-shot vaccine –  became available, that seemed like a good option and opportunity for the county jails. 
PCM's Thomas Weber agrees that J&J may be ideal.
"A one-shot option may be beneficial because we may not be able to guarantee the individuals will still be in there 28 days after their first shot [of a two does version]," Weber says.
But federal agencies recently paused J&J to investigate a rare but deadly side effect. States were just given the green light to resume its use on April 23.
PrimeCare Medical and the Department of Health both say they recently resumed vaccine supply talks. But Weber says nothing concrete has been agreed on, so inmates are still vulnerable.
And deserve to be vaccinated.
"But for a change in circumstances most of us walking around today have done something that could have resulted in our placement in a county correctional facility whether it only be for a couple of hours a weekend," Weber says. "So we cannot be judgmental of what brings our individuals into our facilities. They have the right to the vaccine as much as anyone else."
In Lehigh County, Executive Phil Armstrong says he is talking with the Lehigh Valley Health Network to try and secure some vaccines for the jail. An LVHN spokesperson did not respond to requests for comment. 
So, for now, in the Lehigh Valley and across the state, people in county jails are still waiting for their shot. 
Sign up for our WLVR weekly newsletter to stay up to date with the latest news from the Lehigh Valley and across Pennsylvania.
---