Shots fired at Lehigh Valley Mall send shoppers and employees fleeing and struggling to find one another
Written by Victoria Scialfa on September 21, 2020
Shots fired at Lehigh Valley Mall send shoppers and employees fleeing and struggling to find one another
By Tyler Pratt
September 21, 2020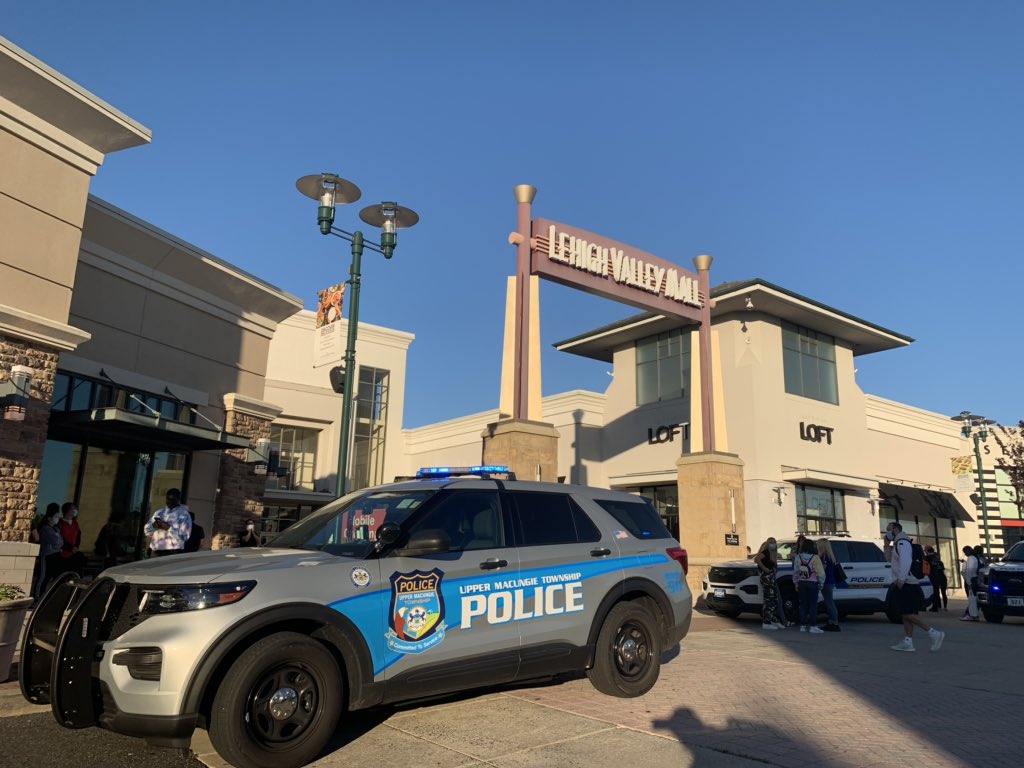 On Saturday afternoon, shots were fired at the Lehigh Valley Mall sending crowds of people scrambling for cover. Law enforcement from across the Valley and state, SWAT teams and EMS descended on the mall as original reports came through there was an active shooter in a department store. Whitehall police later said there were no injuries and have still not found the gunman.
As WLVR's Tyler Pratt reports, for hours shoppers and employees lingered in the parking lot. – Some separated from friends and loved ones, waiting to find out if they were okay. 
Brianna Hernandez and Brianna Crawford were hugging outside the main entrance. Crawford had been outside for an hour looking for her friend.
"We just found each other now where we standing we were standing at the smoothie shop and when we heard the gunshots everyone fell on top of each other and everyone lost each other," said Crawford.
As people ran in all directions, store gates began closing, further separating everyone.
"The first thought in my mind was something dropped because you don't want to think there is a shooting. Right so I was like someone dropped something big and they were like get down and then I was like oh no – something bad is happening," said Crawford.
Autumn Garcia and her mom Dawn Drago had been trying on clothes.
"I saw a bunch of people dash to the back and I was like what's going on and then heard someone say gunshots – we were trying on jeans  – these aren't mine – her jeans are in the dressing room," said Garcia. 
Heavily armed police made their way in and out of parts of the mall, clearing stores where people were sheltering in place. Outside the crowd tried to tell them where people were.
"They're in the downstairs Bath and Body Works, they are in a storage closet."
Liz Ramautar asked officers several times to help them find her son. She and her daughters had been in one store when the shots were fired, her son in another.
"It's like they are not on the same team. One cop is saying they are going out another way another cop is saying I don't know which way they are going It's like are y'all communicating with each other," said Ramautar.
A few minutes later her son Radesh walked out with a group of people who had been trapped in Victoria's Secret. Their hand all in the air. His mom ran to hug him, thanking the employees who had been with him
"Thank you so much god bless you. I appreciate you from the bottom of my heart. He was making us feel better too trust me you have a great son- thank you so much," she said.
Throughout the evening, police worked to get witness statements from anyone who heard and saw anything. Many employees said they were stranded with items like car keys and phones still inside.
Whitehall Township Police Chief Michael Marks said during a press conference that night that there are no reports of any known injuries and they do not currently have any suspects. Multiple accounts from shoppers and workers say they heard three or four gunshots but there are no descriptions of suspects at this time.
Police are asking anyone who has cellphone video taken inside the Lehigh Valley Mall at the time of the shooting to call 610-437-3042.
On Sunday the Lehigh Valley Mall reopened for business. This is the second shooting at the mall in two years.
Sign Up for our WLVR weekly newsletter to stay up to date with the latest news from the Lehigh Valley and across Pennsylvania.
---