The Mill at Easton provides welcome affordable housing
The Mill at Easton provides welcome affordable housing
By Jay Bradley
August 2, 2022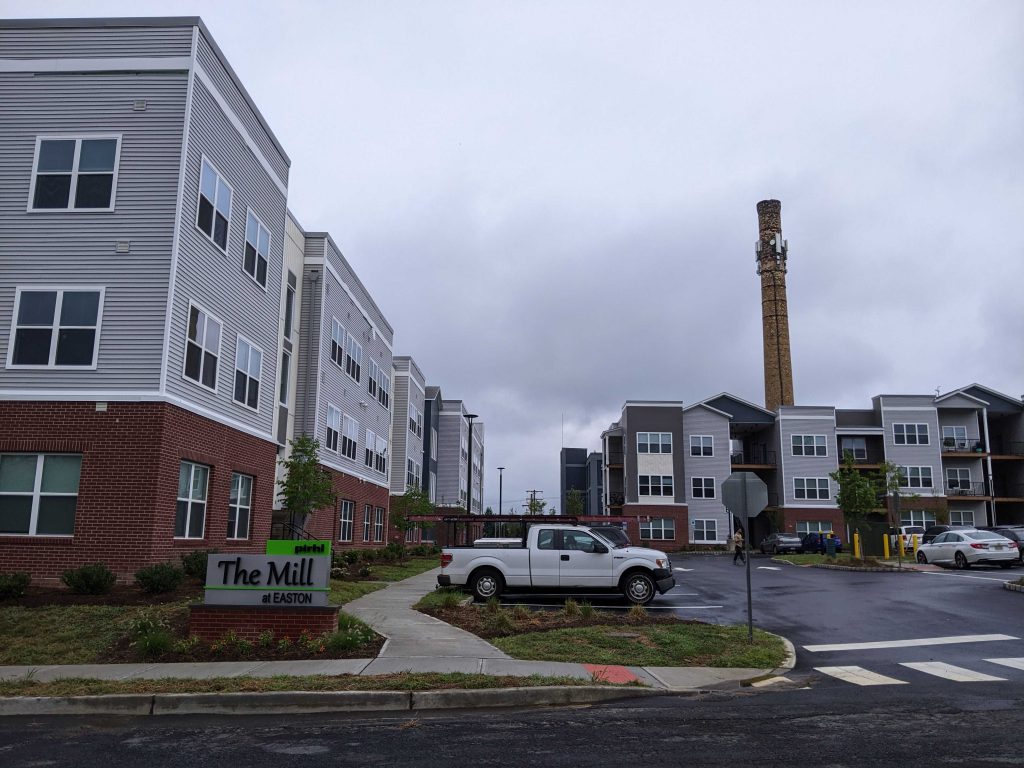 EASTON, Pa. – John Robinson owned and operated Black Diamond Enterprises in Easton for many years, and while the site eventually fell into disrepair, his vision for what the property could turn into did anything but. 
"He wanted to benefit his community," said Robinson's son Joshua. "He was a family guy. He was a well respected man in the community, so he wanted to have something on the South Side to represent that."
Robinson died before his vision of a new affordable housing development on the Stewart Silk Mill could come to fruition, but on Monday, community stakeholders, local officials, and his children came to cut the ribbon on 55 new apartment units in Easton's South Side.
"It chokes me up, you know, my father passed away about two years now," said Joshua, who was joined by his sister Faith. "So for him not to be here to see it, it's an honor for me to stand right here in his place to see this happen."
The Mill at Easton held a ribbon-cutting that signified completion of phase 1 of the project that comprises two three-story residential buildings of one-, two- and three-bedroom apartments, Robinson said.
The financial and development partners involved used tax credits, American Rescue Plan funds, and grants to bring the $18 million project to life.
PIRHL LLC (Partners for Income Restricted Housing Leadership), an affordable housing development group that Robinson partnered with, worked with developer Tim Harrison and the nonprofit Easton Area Neighborhood Center to develop the buildings with assistance from other public and private collaborators.
Easton Area Neighborhood Center is the 51% owner of the development.
The developers say units are targeting those who earn incomes between 20% and 80% of the area's median income. Federal data says 80% of the median income value for a family of four in the Allentown-Bethlehem-Easton metro area would be $72,500.
Lara Schwager, senior vice president at PIRHL, said having locations with this restriction allows those in the demographic a safe place to live and grow in a community.
"What you've seen during COVID is those people that are in the low- and moderate-income are the ones that have been crunched the most with housing prices and gas prices and food prices," said Schwager. "So they're the groups that need housing the most, and the way you replicate it is frankly, with all the partners you saw here today."
Money from the county and state, as well as federal tax credits to bring on an investor, were all necessary to make it happen, Schwager said.
"It takes up a family of financiers to really be able to offer housing, which costs so much today, on a restricted rent," she said.
The development will also contain a community room, kids' activity room, food bank, and a fitness room. A second phase of the project will consist of a nearby retail development including a grocery store.
Schwagner says one building is already fully occupied while the second is expected to be 80% occupied by the end of August.
Easton Mayor Sal Panto Jr. says this is an important first step to tackling affordability.
"We have a terrible affordable housing crisis in this country, especially here in Easton, where the economy is doing really well," Panto said. "So everybody who owns a home and wants to sell it is doing well, but those that need to buy one are not doing well. Same way with rentals."
The City of Easton plans on further affordable housing projects in the near future, Panto said. Another development led by PIRHL for affordable housing is planned for Canal Street in Easton. Plans call for it to be named Shiloh Commons.
Affordable housing continues to be a concern in the Lehigh Valley and throughout the country. The most recent federal report on consumer prices shows rents up 5.8% from last year, the highest rise since 1986.
Sign up for our WLVR weekly newsletter to stay up to date with the latest news from the Lehigh Valley and across Pennsylvania.
---