Whiskey-focused bar, restaurant open at former Grain in downtown Allentown
Written by Jim Deegan on August 16, 2022
Whiskey-focused bar, restaurant open at former Grain in downtown Allentown
By Ryan Kneller
August 16, 2022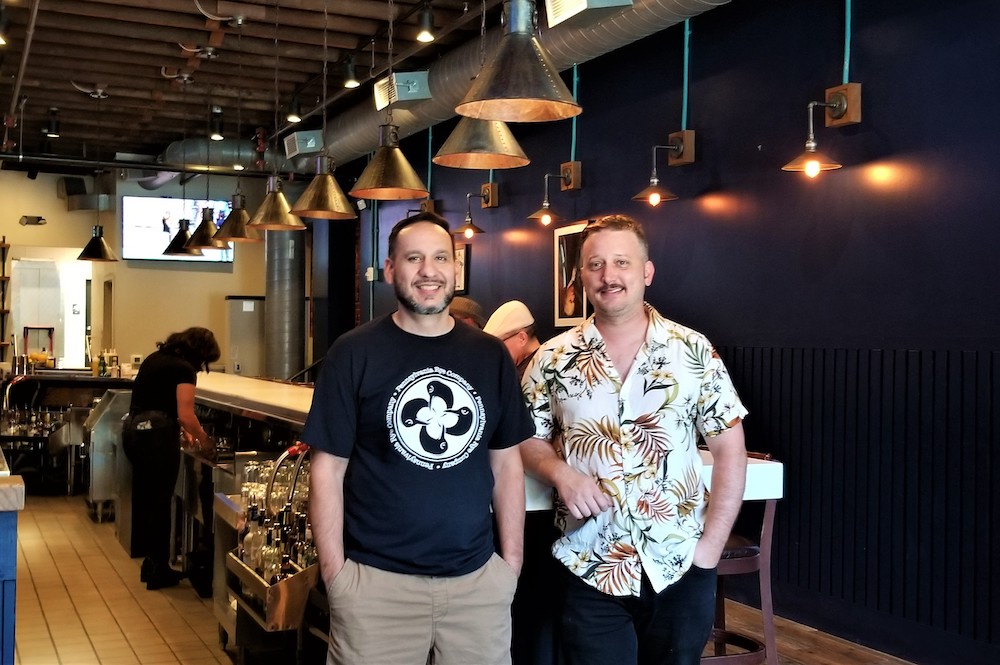 ALLENTOWN, Pa. – With more than 42 years combined in the hospitality industry, a team of bar and restaurant veterans are breathing new life into a prominent dining space in downtown Allentown.
Dan Gonzalez and Jesse Haik, best friends with a fondness for Pennsylvania rye whiskey, last week opened Pennsylvania Rye Company, a neighborhood bar and restaurant paying homage to the spirit, at 536 Hamilton St.
The 110-seat establishment fills the bi-level space that was formerly home to the Federal Grill restaurant. It also housed Grain, a dining establishment offering new takes on American-style comfort food, which closed in 2018 after a few years of business.
Pennsylvania Rye Company, or PA Rye Co for short, offers an extensive collection of rye whiskey focusing on Pennsylvania producers, along with 16 rotating beer taps, a seasonal cocktail list and a boutique wine selection.
"Our aim is to bring a really great whiskey and cocktail bar to downtown Allentown as well as fill the area's need for a late-night neighborhood bar," Gonzalez said. "Just about everywhere downtown seems to close by midnight. So, we're staying open until 2 a.m. Wednesday through Sunday."
Gonzalez and Haik have returned to an evolving downtown Allentown restaurant scene where they helped launch a handful of notable dining spots over the years.
Gonzalez, an Allentown native, has more than two decades of industry experience and was a head bartender at the former Hamilton Kitchen & Bar before becoming a corporate liquor sales representative for Breakthru Beverage.
Haik, from New Orleans, began working in restaurants at age 15 and has opened and managed restaurants in five states. In Allentown, he served as beverage manager for The Dime restaurant at The Renaissance Allentown Hotel.
"Although Jesse and I have worked in, launched, and managed various locations nationwide, we both kept coming back to Allentown as the place we wanted to open our own bar," Gonzalez said.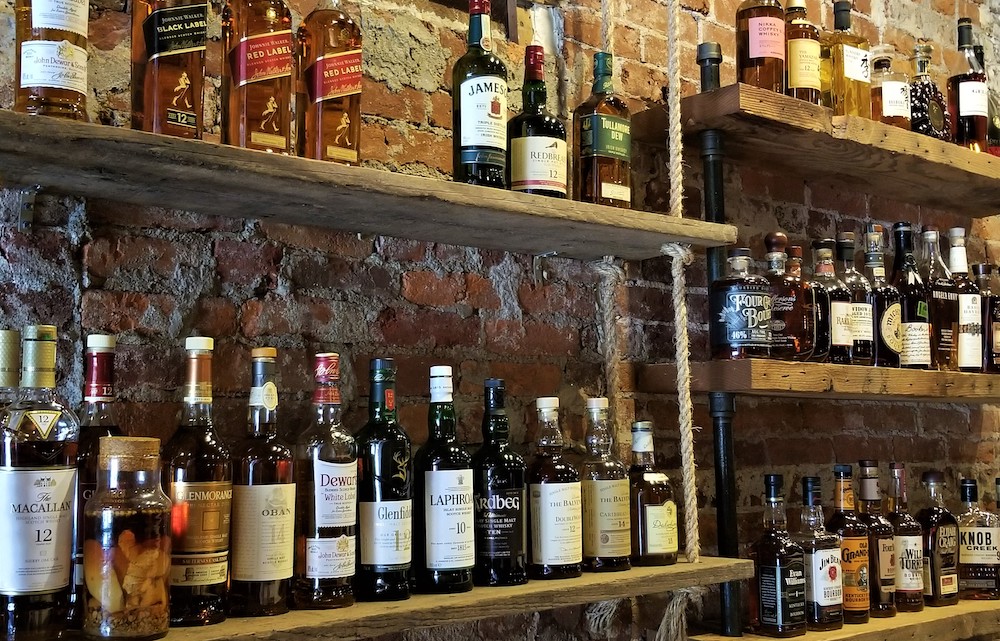 Whiskey buffs can choose from more than 80 local, national and international varieties.
There are bourbons such as Jefferson's Reserve and Wild Turkey Rare Breed; Scotch whiskeys such as Dewar's White Label and Johnnie Walker Red Label; and Japanese whiskeys such as Hibiki Harmony and Yamazaki 12-year.
In terms of rye whiskey, the business features about two dozen varieties, such as selections from Lehigh Valley distilleries such as Social Still in Bethlehem and Eight Oaks Farm Distillery in New Tripoli. Other Pennsylvania producers include Wigle Whiskey Distillery in Pittsburgh, Thistle Finch Distillery in Lancaster and Bluebird Distilling in Phoenixville, Chester County.
"Dan and I have been in the beverage industry – on the other side of the bar – for so long," Haik said. "And as bartenders, the Pennsylvania ryes were what we were reaching for most of the time to make cocktails because they have great bodies and flavor profiles."
"In terms of spirit growth in North America, ryes are also on the upswing due to their affordability. Many bourbons are becoming so expensive that they're almost inaccessible."
American rye whiskey got its start in Pennsylvania, the partners note, with the spirit becoming popular among early colonists in the mid-1700s.
The state also was the site of the 1794 Whiskey Rebellion, an uprising of settlers in western Pennsylvania against a federal excise tax on whiskey proposed by U.S. Secretary of the Treasury Alexander Hamilton.
A framed picture of Hamilton is hung upside down in the bar area, a nod to the practice of disgruntled Pennsylvania farmers and distillers at the time of the rebellion.
"Pennsylvania is the birthplace of rye whiskey – and American whiskey, in my opinion," Haik said. "Pennsylvanians have been making whiskey since they first arrived, before Kentucky was even a state."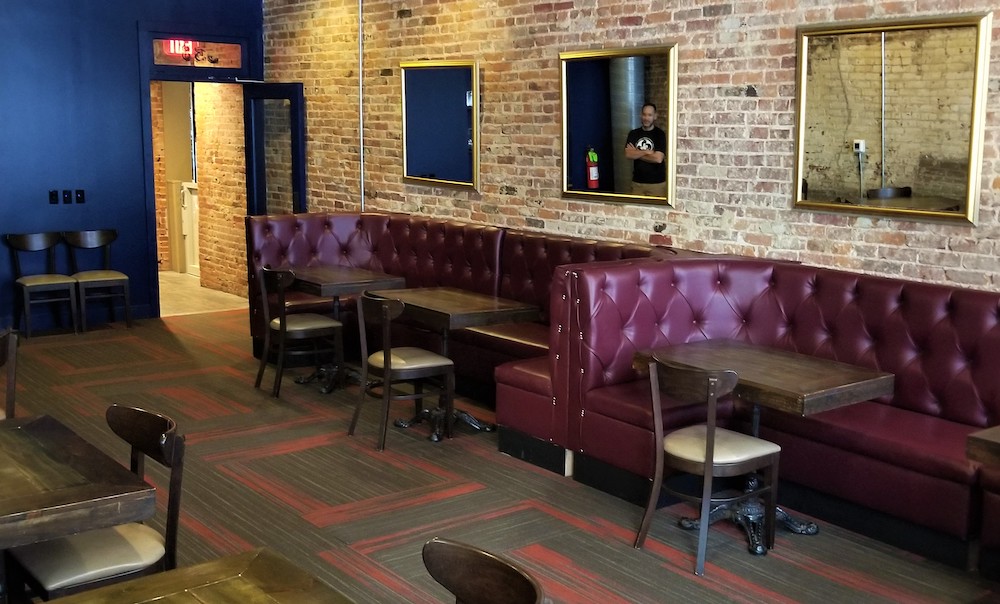 Haik and Gonzalez performed a multitude of renovations, including adding new blue wall paint, kitchen equipment and artwork.
A ground-floor room that was previously reserved for private parties is now being used as the restaurant's main dining room, with aesthetic highlights including exposed brick walls, red and gray carpeting and reupholstered burgundy booths.
An existing bar, featuring a new quartzite top, serves classic and signature cocktails such as a French 75, negroni, rye whiskey sour and Sazerac. House-made cocktails such as an old fashioned as well as non-alcoholic beverages such as ginger beer and grapefruit soda are available on tap.
"The old fashioned on tap has been our biggest hit so far," Gonzalez said. "We went through almost 15 liters in a couple of days. Our number one seller for food has been the grilled octopus."
In addition to drinks, PA Rye Co is offering a food menu that Haik describes as "modern American tavern-style with international influences."
More than a dozen small plates, $7-$18, include selections like goat cheese croquettes, baba ghanoush, salmon carpaccio and a quinoa bowl. Other highlights include sandwiches ($10-$16) such as a Cubano, turkey club and fried chicken sandwich; and salads ($11-$14) such as Caesar and chopped.
The culinary team is led by executive chef Eduardo Aburto, a seven-year Allentown resident hailing from Mexico City.
Aburto has more than 16 years of international kitchen experience, including stints in the Bahamas, Mexico and several states. He opened the Renaissance Allentown Hotel as chef de cuisine, and for the past year, he was a chef at The Roof Restaurant in New Hope, Bucks County.
"We are planning a strong cocktail program with featured PA ryes, but we will be much more than just a rye bar," Haik added. "We have an excellent chef coming from New Hope and have already been in conversation with whiskey and wine makers to host special exclusive cocktail events."
The 6,200-square-foot restaurant, which features an upper-level lounge and space for overflow dining and private parties, will be connected to a wine shop that is expected to open "by the end of October" in the former Cork & Cage craft beer shop at 538 Hamilton St., Gonzalez said.
The store will feature more than 100 domestic and international wines, including varieties from California, France, Italy, Portugal and Argentina.
There also will be a small beer selection along with grab-and-go sandwiches, salads and other foods.
"The retail shop will fill a void because people currently can't purchase a bottle of wine downtown," Gonzalez said. "It will also be geared toward downtown workers who want to get some food quickly."
PA Rye Co, which will eventually offer outdoor dining on the sidewalk, is open 3 p.m. to 2 a.m. Wednesday through Sunday. Private event space is available by calling 484-929-2729.
Sign up for our WLVR weekly newsletter to stay up to date with the latest news from the Lehigh Valley and across Pennsylvania.
---