Lehigh Valley leaders react to threat of losing IronPigs: 'This is more than just baseball'
Lehigh Valley leaders react to threat of losing IronPigs: 'This is more than just baseball'
By Stephanie Sigafoos
June 28, 2022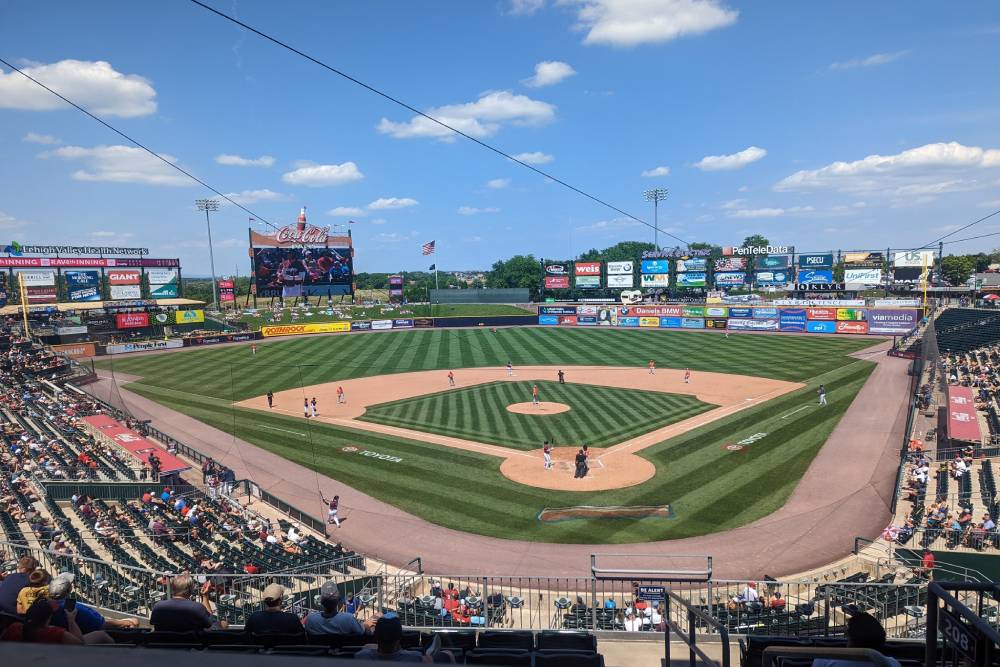 ALLENTOWN, Pa. – The Lehigh Valley IronPigs have been "a tremendous resource" to the area, says Lehigh County Executive Phil Armstrong. However, the ballclub's future is suddenly unclear as it struggles to reckon with costly facilities standards imposed by Major League Baseball.
Those standards put the IronPigs on the hook for upgrades that will cost $9.5 million to bring Coca-Cola Park up to current specs by April 2023. If they don't, they risk losing their MLB affiliation — and could end up leaving the Lehigh Valley.
In a phone call Monday, Armstrong said the threat "is not just a possibility, but a definite" if the IronPigs can't get the funding and meet MLB's deadline.
"There are empty stadiums out there wanting teams and will do anything to get those teams. It's not just a point of someone calling our bluff. This is a fact. There are teams looking for stadiums and Major League Baseball has said, 'This is what your stadium needs to have' … we're just hoping everybody involved will help out to save the 'Pigs."
How we got here
The fall of 2020 marked the end of the Professional Baseball Agreement that oversaw the relationship between the minor leagues and MLB. It led to a dramatic takeover that resulted in 42 teams losing their affiliations.
The 120 teams that remained were subject to a wholesale realignment, leaving one team each at the Triple A, Double A, High A and Low A levels for all 30 MLB clubs. It meant the minor leagues were now under direct MLB rule, and teams were told they'd be required to raise the minimum standards at their facilities to enhance the player experience.
Those upgrades include an expanded clubhouse, male and female locker rooms, training facilities, hydro space, and more.
The result was a hefty price tag for the Lehigh Valley to keep the IronPigs, the Triple A affiliate of the Philadelphia Phillies. Spiraling costs and inflation added an additional $3.5 million to facility improvements originally pegged at about $6 million, according to General Manager Kurt Landes.
In an interview with WLVR last week, Landes outlined both the committed funds and funds that have been requested for the project, but said it still leaves the team with a more than $2 million funding gap to update the ballpark. One of the biggest questions is whether it will get $1.5 million requested from Allentown through funds from the American Rescue Plan (ARPA).
City council voted 4-3 earlier this month to table the appropriations request, with some members saying council was showing unfair preference to the IronPigs over other organizations, and suggesting public meetings should be held to decide where the funding should go.
Landes said he respects the city's process and maintains the team is not trying to leverage funds, but said the delays assure that meeting the April 2023 deadline will now be a "significant issue."
In a phone call Friday, council member Candida Affa said other city expenditures are also at the top of the agenda.
"Believe me, I don't want to see the IronPigs go anywhere, but we have our priorities and we have our process," said Affa, who voted to table the request. "Yes, we are going to give money to tourism and entertainment, and they are part of the category, but I don't understand why they keep pressuring us."
Affa listed other priorities such as infrastructure, affordable housing, homelessness and police staffing as major issues the city also needs to address using the ARPA funds.
Landes believes the existential anxiety felt over the last two years has only been compounded with MLB holding greater control over the future and trying to cut costs along the way.
"All minor league teams, even successful ones, are asking for investments and facilities," Landes said, noting there's been nothing to soften the economic blow these teams are facing. "The timing of MLB's takeover of minor league baseball … it's hard for the industry and a lot of teams that lost millions upon millions of dollars [during the pandemic]."
Asked whether Major League Baseball has been in touch regarding the possibility of extending construction deadlines, Landes said that broadly, for the 120 teams required to make upgrades, there have been no exceptions.
'More than just baseball'
Coca-Cola Park is not only a major asset and attraction, it's a significant component of the Lehigh Valley's economy, said Alex Michaels, president and CEO of Discover Lehigh Valley, with the IronPigs as perennial attendance leaders at the Triple A level.
"Since 2008 there's been 8 million guests, or about 9,000 fans per game," Michaels said Monday. "Around 600 employees work for the IronPigs and you also have all the vendors that work in the facility. There's a bigger magnitude than [potentially] just losing a franchise."
He said that 41% of IronPigs employees live in Lehigh County and around 44% live in Northampton County.
"Beyond the hundreds who work there, nearly everyone in the Lehigh Valley is probably aware of the IronPigs or has attended a game," Michaels noted. "Plus, that stadiums hosts hundreds of other events and brings other parts of the economy into play."
It truly makes Coca-Cola Park a lynchpin to the community, Armstrong said.
"When people come into the area to visit Coca-Cola Park, they stay in hotels, they eat at restaurants and there are so many other factors that add to the value of what the IronPigs bring to this area," he said.
Allentown City Clerk Michael Hanlon said council's next scheduled meeting on ARPA funds is Wednesday, July 13. At that time, council is poised to look at categories of spending relating to entertainment and tourism – a presentation led that will be led by Discover Lehigh Valley.
"I love the visionaries of the Lehigh Valley that didn't just leave an empty parking lot [where Coca-Cola Park is located]. They decided to build, just like ArtsQuest did with SteelStacks, and look how it's grown," Michaels said. "But the bottom line is, the IronPigs are a big, big factor. We really can't lose them.
"The sociology when you start seeing things like that where these venues close — people start finding things that are not as desirable to do," he continued. "We're the third-largest metro area in the state of Pennsylvania and we really need to start thinking like that long-term. We can't afford to go backwards. Losing this franchise would be going backwards. This is more than just baseball."
Sign up for our WLVR weekly newsletter to stay up to date with the latest news from the Lehigh Valley and across Pennsylvania.
---