Volunteer crews answer call to rid historic Easton Cemetery of dead, dying trees
Written by Aliya Haddon on August 3, 2022
Volunteer crews answer call to rid historic Easton Cemetery of dead, dying trees
By Aliya Haddon
August 3, 2022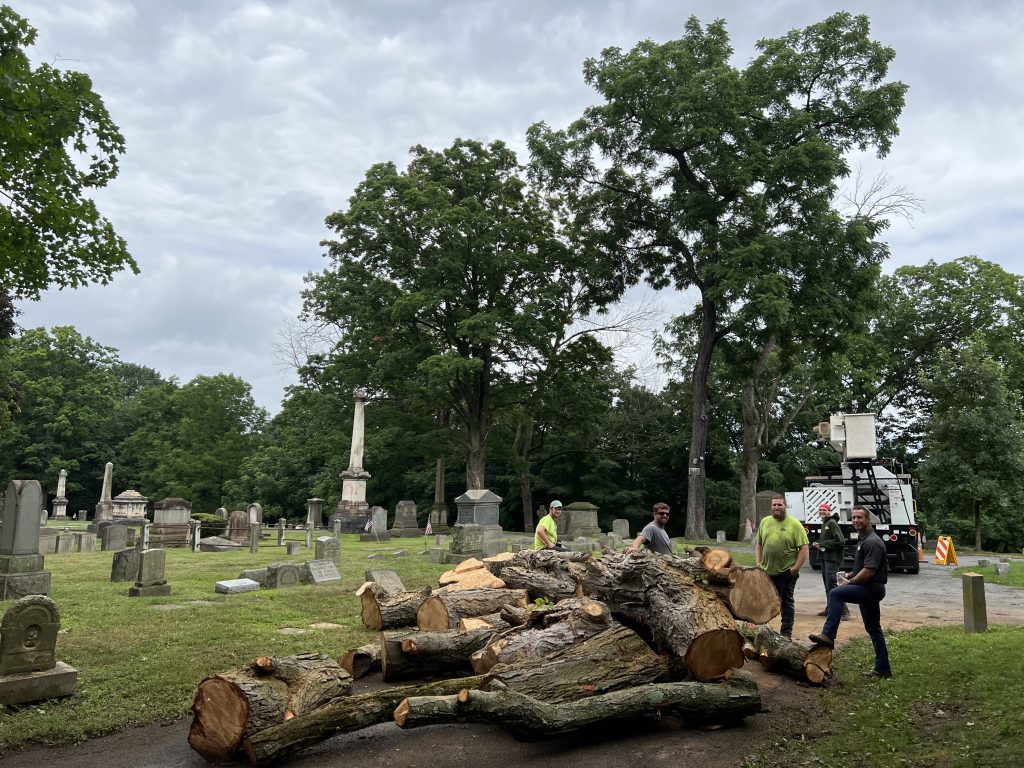 EASTON, Pa. -Some of the trees in Easton Cemetery might not make it through another gust of wind. More than 70 trees are dead and dying throughout the 100-acre property. 
A day of charity was organized to remove some of the trees Monday. Budgetary issues meant the cemetery didn't have the money to pay for the work. A single tree can cost thousands to remove.
Seven local tree services volunteered to get the job done.
Cemetery Superintendent Jeff Mutchler said he was grateful for all the help.
"Without them we're not able to make ends meet," he said. "There's no way our budget would allow us to spend that kind of money to take these trees down."
Old age and illness are plaguing the trees and making them hazardous to gravestones and visitors. Most are Norway maples and ash trees.
Leonard Witt, owner of Witt's Tree Service, said his crew took down one maple and two large ash trees suffering from insect infestation.
"The emerald ash borer is an imported pest, and it kills Pennsylvania white ash, which is a very popular native tree in this area," he said.
A 12-man crew and a crane made the job possible. Witt estimated that the labor and equipment provided by his company alone would be worth $7,500.
Joshua Malik, CEO of Joshua Tree, estimated a price of $6,000 for his four-person crew and the three pieces of equipment they brought with them.
"We love doing community work and giving back," he said. "So, when we heard there was an opportunity that we could give back and do something to beautify the cemetery, we were all on board."
The idea for the community effort sprouted when Easton City Forester Robert Christopher was walking through the cemetery about two months ago.
"When I started to see the amount of trees, I'm like, 'You guys need help,'" Christopher said.
Several of the cemetery trees were infested by the emerald ash borer, an invasive beetle.
"They bore a hole into the tree, lay their egg in there, the larvae hatches, and it eats the inside of the live tissue of the tree and basically cuts off all its water and nutrition," Christopher explained. "And they say within three years of an infestation, there can be up to five million larvae living in the tree."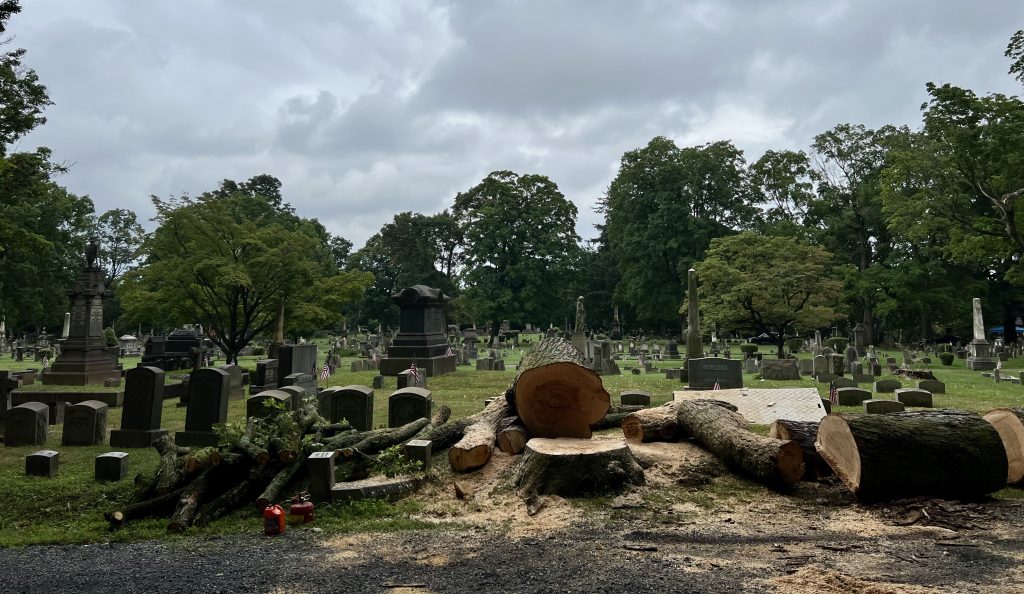 Mutchler said Christopher was a key figure in organizing the event.
"His knowledge and his contacts are what help the cemetery out greatly because we don't have that access," Mutchler said.
Christopher says the historic property is way more than a graveyard.
"This is really a gem in the city, and it needs to be valued for that, and conserved," he said.
"There's so much history here. I mean, you have George Taylor, who's a signer of the Declaration of Independence. The trees alone are historic trees."
Easton Cemetery is listed on the National Register of Historic Places.
Bartlett Tree Service safety coordinator Chris Shiffer and his crew were extra careful of their surroundings.
"Some of the gravestones over there say Civil War veteran," he said.
His crew removed a cottonwood tree that had a decaying lead — a continuation of the main trunk — that was hanging over headstones.
Christopher has applied for a tree-planting grant from TD Bank to replace about 30 of the trees, and is hoping to hear back by month's end.
Grants last year enabled the planting of 42 to 60 trees at the cemetery, he said.
Tree service companies that volunteered their time in participating Monday were:
Betterscapes Lawn, Shrub & Tree Car
Bartlett Tree Service
Crafted Landscapes & Expert Tree Care
Friendly Tree Service
Hickory High Tree Service
Witt's Tree Service
Joshua Tree Service
Sign up for our WLVR weekly newsletter to stay up to date with the latest news from the Lehigh Valley and across Pennsylvania.
---