Morning Call Guild walks off job in 1-day strike
Written by Jim Deegan on May 13, 2022
Morning Call Guild walks off job in 1-day strike
By Tyler Pratt
May 13, 2022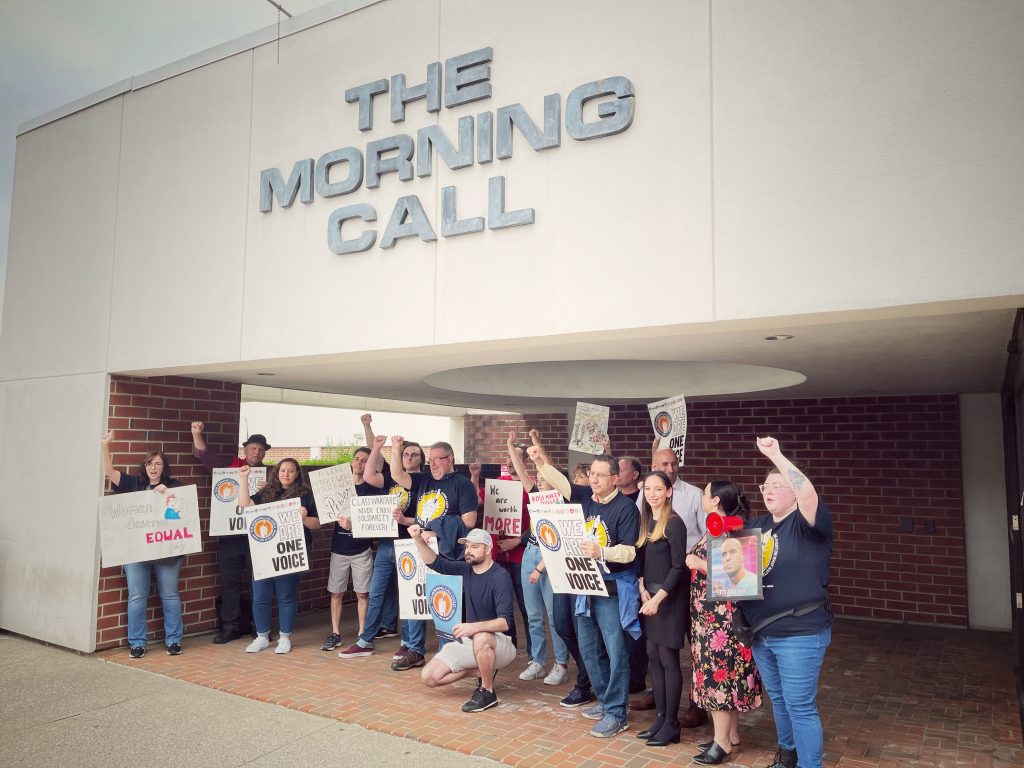 This story has been updated.
ALLENTOWN, Pa. – As part of a one-day walkout, journalists of The Morning Call Guild, which represents reporters, editors and photographers, took aim Friday at the paper's publisher, Alden Global Capital, a hedge fund that bought out the newspaper's former owner last year. 
Over the past several years The Morning Call's reporting staff has shrunk dramatically amid buyouts.
Alden has been known to slash newsroom staff at sites across the country in an effort to boost profits in the struggling newspaper industry.
Union members said they want to highlight low pay and "discriminatory wages."
Women at the paper make less than men, they said, and there are no female senior journalists, and only one journalist of color.
The guild held a noon rally at Allentown's Arts Park attended by about 40 people.
Journalists who attended said they are not being fairly compensated for expenditures like gas.
The Morning Call publishes daily but closed its longtime building at Sixth and Linden streets in Allentown in 2020. Newsroom staffers have been working remotely since early in the pandemic.
"We're at a point now where we need to take this drastic action and show that our work has value," reporter and Guild Vice Chair Jennifer Sheehan said.
"We aren't just numbers on a spreadsheet. We aren't just part of the cash machine that gives [Alden Global Capital] their money. We're people," she said.
Speakers at the rally included Allentown Mayor Matt Tuerk, Bethlehem Mayor William Reynolds, Bethlehem Director of Equity and Inclusion Janine Santoro, a representative from U.S. Sen. Bob Casey's office, NewsGuild-Communications Workers of America President Jon Schleuss and former ABC and NBC journalist Melba Tolliver.
Tuerk rushed in late from an event taking place simultaneously at City Hall. Allentown officials were raising a flag to honor the Delaware Nation Tribe.
"I'm particularly sad and irritated with the managers of the Morning Call that led to a work stoppage that meant we didn't see [the flag raising] covered," Tuerk said. "This is the kind of stuff that goes missing in our city when our newspaper, The Morning Call, which is at the heart of our city, [and] has been underinvesting in their facilities and in their people."
"Every elected official should be here right now," Reynolds said. "One of the best friends we have is The Morning Call. We need context and we need to talk to people about the difficult issues in front of us."
Sheehan responded to Reynolds' show of support after the rally.
"He appreciates the role that we serve in a democracy," Sheehan said. "This is not a comfortable space for us to be in that we are the story, but we have to do this. It's how we are going to make this better. We have to shine a light on it. We have to be transparent."
Several pro-union Democratic candidates running for statewide office in Tuesday's primary election also spoke at the rally.
State Rep. Malcolm Kenyatta, who is running for Pennsylvania's open U.S. Senate seat, was among them.
"Today we are here demanding that folks be treated with dignity and respect," Kenyatta said amid cheers and applause. "That you actually be paid for the critical work that you do."
Democratic state Rep. Brian Sims, who is running for the lieutenant governor's office, also spoke.
"I've met many of you for the first time. It's a really horrible reason to meet all of you," Sims said. "It's directly because of racism, sexism and greed. We don't say those things enough and we don't say them loudly enough."
Both Kenyatta and Sims are in the final days of campaigning for higher office in Tuesday's primary election.
Sheehan said their presence Friday was as "community members."
"At this moment we're looking at ourselves as a union and that we need to look for support from the community," Sheehan said. "Community comes in many forms: it comes from people in power, elected officials [and] it comes from readers."
Sheehan said the majority of the Morning Call News Guild walked out Friday and that they planned to stay dark until Saturday morning.
"I think you're going to see a dramatic difference between what's on the website today and in the paper tomorrow because all of us are here," Sheehan said. "I think you are going to see a big difference in local bylines."
Neither the Morning Call's editor-in-chief nor a spokesperson for Alden Global Capital responded to WLVR's requests for comment.
The Morning Call Guild has not had a contract since newsroom staffers formed the union three years ago under former owners Tribune Publishing Co.
Sign up for our WLVR weekly newsletter to stay up to date with the latest news from the Lehigh Valley and across Pennsylvania.
---