Program uses iPads to break down communication barriers between EMS workers, patients
Written by John Moser on August 23, 2022
Program uses iPads to break down communication barriers between EMS workers, patients
By Brittany Sweeney
August 23, 2022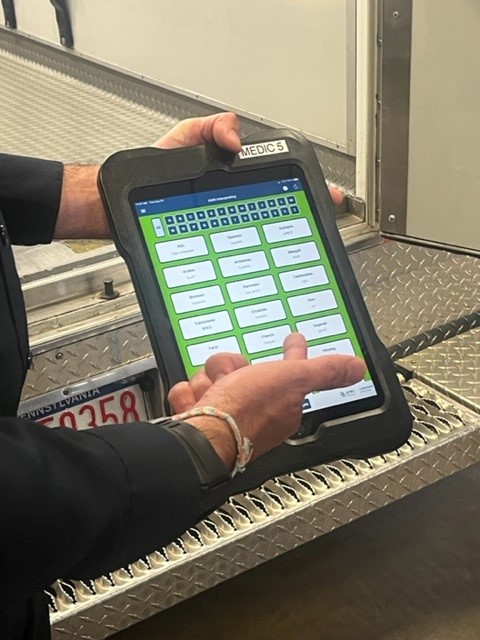 ALLENTOWN, Pa. – Lehigh Valley Health Network is providing technology to break down the language barrier between emergency services workers and patients.
A pilot program using a translation service on iPads is now in place in Allentown, giving EMS workers the ability to connect patients with an interpreter 24 hours a day, seven days a week by video or phone call.
Allentown Mayor Matt Tuerk and LVHN teamed up at Mack South Fire Station in the city Tuesday to announce the program.
"These iPads will use video remote interpreting technology that will allow our paramedics and health care staff to quickly connect with trained medical interpreters and can translate into Spanish, Arabic – important here in Allentown – and Vietnamese among other languages, including American Sign Language," the mayor said.
The interpreter pilot program began about a month ago and was funded by the HealthCare Trust of Anne Constance and Carl Robert Anderson at LVHN.
The program provided Allentown with seven iPads. Five are loaded onto the ambulances and will travel with paramedics. The other two will be used by Allentown Health Bureau staff at community events, such as vaccine clinics, to help with language assistance.
"Oftentimes, patients come in and they bring a child as their interpreter and that child is put into a very difficult and sometimes even traumatizing position to translate for a parent," Allentown Community and Economic Development Director Vicky Kistler said.
Kistler said the iPads will help to eliminate that practice.
"Thanks to the generosity of Lehigh Valley Health Network and their funding partners, we're able to hopefully change the way pre-medicine happens, as well as the way our Health Bureau can communicate with our patients," Kistler said.
Allentown EMS Chief of Operations Mehmet Barzev demonstrated how the process works at the announcement Tuesday.
"It's going to help us deliver a patient to the hospital with the semblance of what's going on versus the old way of just taking them and hoping someone at the hospital is going to be able to get them a translator," Barzev said.
He was joined by Joumana De Santiago, manager of interpreter service for LVHN, who came up with the idea for the program.
"All too often emergency responders in the city of Allentown were relying on children, family members and neighbors to get critical information from patients, wasting precious time and sometimes resulting in inaccurate information," De Santiago said.
She said the program is a step toward making sure language barriers do not create care barriers.
"Access to interpreter services in our health network has transformed our ability to equip our healthcare providers with accurately and timely information about the patients," she said.
Sign up for our WLVR weekly newsletter to stay up to date with the latest news from the Lehigh Valley and across Pennsylvania.
---