Gov. Wolf visits Allentown school, touts $1.9 billion hike to education funding
Written by Jim Deegan on March 7, 2022
Gov. Wolf visits Allentown school, touts $1.9 billion hike to education funding
By Hayden Mitman
Monday, March 8, 2022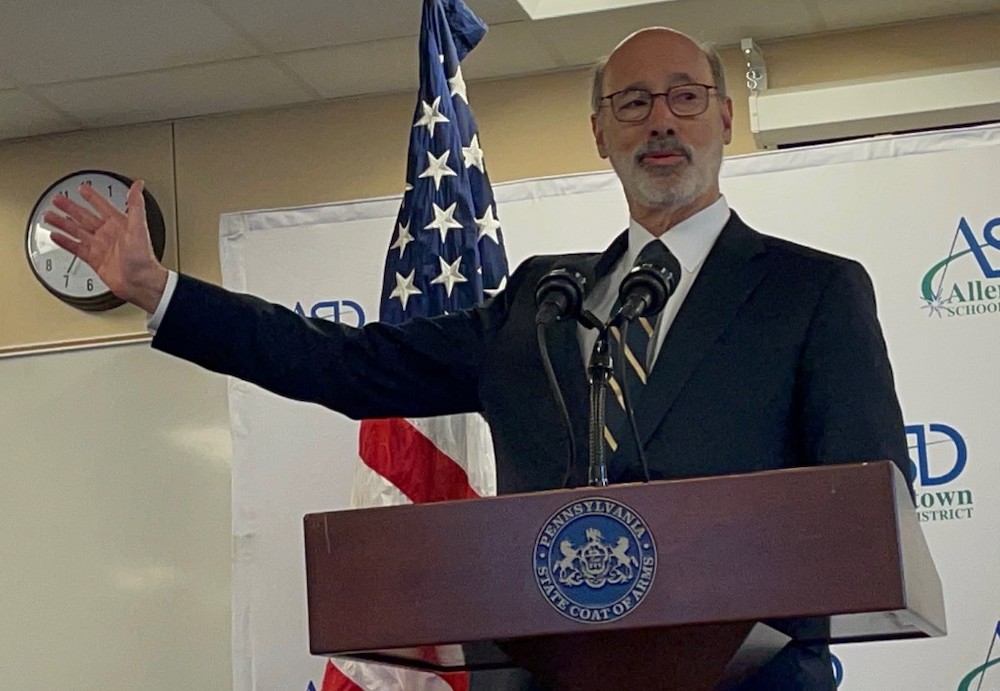 This story has been updated.
ALLENTOWN, Pa. – Gov. Tom Wolf visited Allentown on Monday and renewed his call for more money in support of public education, especially in areas like Allentown that he said traditionally have been underfunded.
He said the state is flush with cash and he's calling for an increase of nearly $2 billion in education spending.
Through investments and careful fiscal management, Wolf said, when he ends his term as governor, he will leave the state with a $2.8 billion budget surplus. And, he said, increases to school funding are long overdue.
"The historical unwillingness of the commonwealth to shoulder its fair share of the burden for public education funding has been a real drain on students, on teachers, on taxpayers at the local level," he said.
Wolf's state budget proposal calls for a $1.9 billion increase in education funding. Of that, the Allentown School District could get an additional $66 million a year.
"Thanks to the strong financial standing we have in the commonwealth right now, we can do this without raising taxes one single penny," he said. "For the Allentown school district, that would mean, an additional, each year, every year moving forward, a $66 million dollar increase, that's an increase, including $19 million dollars from the Level Up fund. That would be a big deal."
The money, he said, will ensure that children receive an equitable education regardless of the financial resources available in their community.
"Through these ongoing efforts, we are setting up a Pennsylvania where all students receive a top tier education, where local taxpayers aren't shouldering the bulk of the responsibility for funding schools, and where all Pennsylvanians have an opportunity to succeed," Wolf said.
Wolf, a Democrat, toured William Allen High School with state Rep. Mike Schlossberg (D-Lehigh) and state Rep. Peter Schweyer (D-Lehigh). Joining them were Allentown schools Superintendent John D. Stanford and school board President Nancy Wilt.
State universities and scholarship programs also would receive beefed-up funding, including $125 million for the 14-school State System of Higher Education and a $200 million scholarship program for students who go there.
It remains to be seen if the Democratic governor's $42 billion dollar budget proposal will be approved by the GOP-lead legislature. They need to review and vote on it before the July 1 deadline.
Sign up for our WLVR weekly newsletter to stay up to date with the latest news from the Lehigh Valley and across Pennsylvania.
---